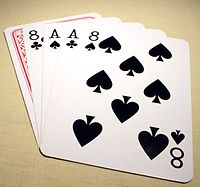 No higher resolution available.
The dead man's hand is a two-pair poker hand, namely "aces and eights". This card combination gets its name from a legend that it was the five-card-draw hand held by Wild Bill Hickok, when he was murdered on August 2, 1876, in Saloon No. 10 at Deadwood, South Dakota. According to the popular version, Hickok's final hand included the aces and eights of both black suits. As Hickok's biographer, Joseph Rosa puts it: the "accepted version is that the cards were the ace of spades, the ace of clubs, two black eights (clubs and spades), and the queen of clubs as the "kicker". However, Rosa says no contemporary source for this exact hand can be found. The earliest detailed reference to the "dead man's hand" is 1886, where it was described as a "full house consisting of three jacks and a pair of tens." In accounts that mention two aces and eights, there are various claims regarding the identity of Hickok's fifth card, suggestions that he had discarded one card and/or that the draw was curtailed by the shooting and Hickok therefore never received his fifth card. In the HBO television historical drama series Deadwood, a nine of diamonds is depicted, although the show posits that another player concocted the hand, to further his own newsworthiness. An episode of Ripley's Believe it or Not shows Hickok holding a queen of clubs. An episode of Quantum Leap also shows Sam's love interest holding a Dead Man's Hand. Historical displays in the town of Deadwood, including one in a reconstruction of the original Saloon No. 10, also show the nine of diamonds as the fifth card. The Lucky Nugget Gambling Hall, which holds the historic site of Saloon No. 10, instead displays a jack of diamonds. The Adams Museum in Deadwood has a display that claims to be the actual squeezer cards held by Hickok. The hand is: ace of diamonds, ace of clubs, eight of hearts, eight of spades, and the queen of hearts. The Stardust on the Las Vegas Strip has used a five of diamonds in related displays and the Las Vegas Metropolitan Police Department Homicide Division uses the dead man's hand in its insignia, as does the Armed Forces Medical Examiner System.
Appears on these pages

of
As stated above, this wiki will be about Tigeradon and will allow users to add their own content...

An urban legend that says that anyone who puts there feet on someone's bed twice or more without...
File history
Click on a date/time to view the file as it appeared at that time.
Ad blocker interference detected!
Wikia is a free-to-use site that makes money from advertising. We have a modified experience for viewers using ad blockers

Wikia is not accessible if you've made further modifications. Remove the custom ad blocker rule(s) and the page will load as expected.